Increase Your Production
Efficiency
With an Award-Winning Paperless Manufacturing Software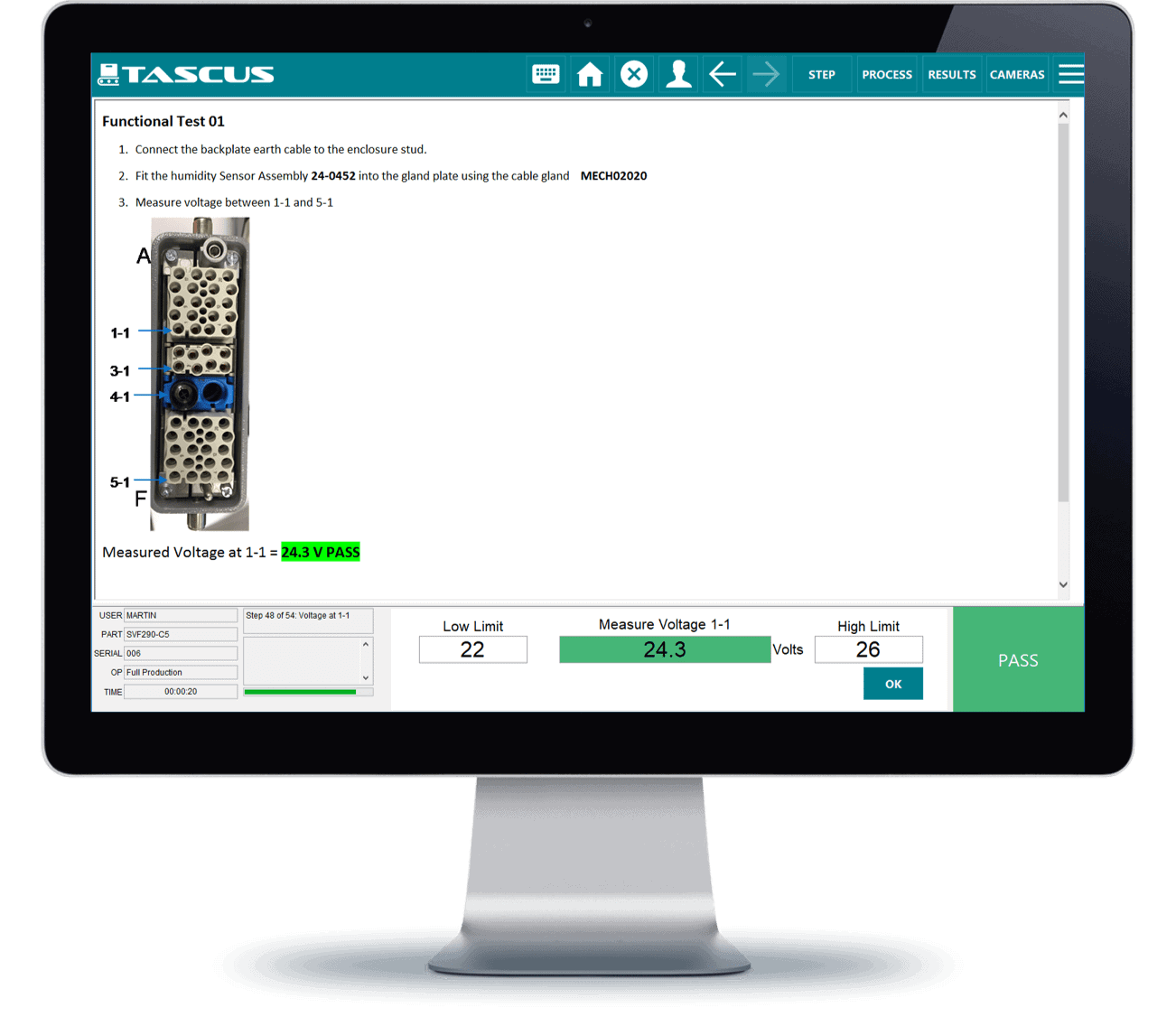 Our manufacturing clients use our comprehensive Manufacturing Execution System (MES), because they want to keep ahead of the competition in globally competitive markets.
Our MES Software, Tascus, replaces paper-based manufacturing travellers and work instructions. By doing so, it eliminates time spent searching for work instructions and recording production data. In addition, production errors and rework are reduced by manufacturing process control, traceability, operations management and quality control. This MES software lets you improve productivity by 30%, win new business with higher value customers and consequently, protect your brand reputation.
Cut Production Errors by 30%
With guided manufacturing assembly steps and process integrity checks.
You won't have to suffer the headache of fixing production errors and rework after implementing our paperless manufacturing software.
Make Better Business Decisions
With accurate data automatically captured from the shop floor.
You'll be able to see what is happening in your factory, with insight into live production statistics and product progress.
Reduce Production Lead Time
Provide a more responsive service to customers.
Our MES Software reduces the overhead of producing customised products from many different options.
No Upfront Costs
Get immediate ROI with low monthly subscription pricing.
Tascus' subscription pricing enables manufacturers of all sizes to benefit from advanced production control software.
Cut Overheads and Increase Profits
By reducing the time it takes to create complex products.
Our clients use Tascus to get products to market faster and with less cost and effort.
Maintain Full Product Traceability
By eliminating the expense of mass product recalls.
Tascus allows you to automatically track and trace all components and processes in your manufacturing procedure.
Digital Work Instructions
Our manufacturing assembly software uses digital work instructions to guide operators through complex tasks.
Allow for seamless product change over in a clutter-free workspace, by eliminating paper work instructions. Instead, use monitors with automatically updated instructions across your factory and prevent mistakes that occur when out of date instructions are used.
Prevent Mistakes Progressing
With sequenced and interlocked production operations and integrity checks.
Eliminate the chance of missing critical operations or similarly, allowing faulty products to progress through the factory with process checks at each production stage.
WHO IT'S FOR
Managers & Directors – Make great decisions with full business insight.
Supervisors – Identify issues and meet your targets.
Operators – Avoid mistakes making complex products.  
Available Throughout the Shop Floor
Tascus supports both touch screen PC's and tablets.
Operators and supervisors will have the flexibility to use Tascus no matter where they are in your factory.
Maximise Machine Efficiency
Tascus connects to existing production equipment using industry standard communications protocols.
Automatically collect data from existing equipment to optimise machine maintenance and production control.
Improve Manual Operations
Using Smart Tools with Tascus gives increased process flexibility, quality control and traceability.
Smart tools ensure that operators are using the correct processes when building complex products.
Track and Trace Products
Using barcode scanning or RFID tags to identify product components.
In process track and trace reduces the overhead of and improves the accuracy of manual data entry.
Easily Capture Product Images
Using barcode scanning or RFID tags to identify product components.
Cameras in tablet PCs can be used to capture product images during production.
Cloud or Local Deployment
Tascus can be hosted in the cloud or can be installed on a server in your factory.
Deployment takes between 2 – 5 days.
Get Trained, Then Get Manufacturing
A training specialist will host on-site training to help you complete your first production runs quickly.
First production runs can typically be completed within 10 days of installation.
Comprehensive Support
UK based support engineers provide support to ensure your production goes smoothly.
With a combination of phone, remote and on-site support, we will support your manufacturing operations
Customised for Your Business
Our team of UK developers are experts at creating tailored solutions for manufacturing processes.
A customised installation will ensure you are maximising the productivity gains from your investment.